Ferrari's Charles Leclerc took pole position at the Italian Grand Prix ahead of Red Bull's Max Verstappen.
Cheered by the enthusiastic tifosi, Leclerc beat world championship leader Max Verstappen of Red Bull by 0.145 seconds.
Verstappen, who is one of nine drivers to have a grid penalty, will be demoted to seventh place on the grid.
Mercedes driver George Russell, who qualified sixth fastest, will start second ahead of McLaren's Lando Norris.
Ferrari's Carlos Sainz, Red Bull's Sergio Perez and Lewis Hamilton of Mercedes, who qualified third, fourth and fifth, all drop down the grid with larger penalties than Verstappen.
Sainz and Hamilton will start 18th and 19th after penalties for using too many engine parts sent them to the back of the grid.
Perez, with a lesser penalty for taking fewer new engine components, will start 13th.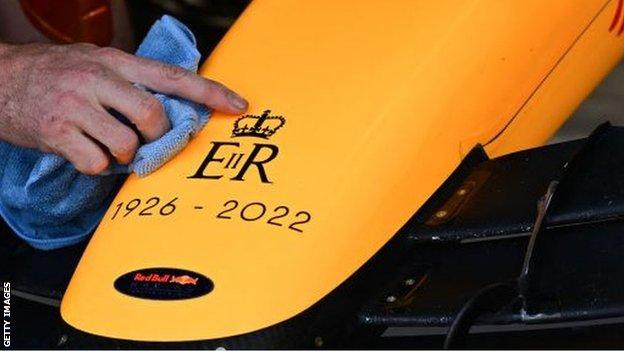 A Ferrari on pole at home
Leclerc's pole is Ferrari's first at their home race since the Monegasque managed the feat in 2019.
Then, Leclerc went on to hold off Hamilton to win the race, and this year he may well face the same struggle with Verstappen, who is widely expected to move up quickly from his starting slot, as he has done so many times this year already.
Verstappen won in Hungary from 10th on the grid, and in Belgium from 14th.
Leclerc said: "It's amazing. It wasn't an easy qualifying session. I knew there was quite a bit of potential in the car but I didn't manage to put everything together, and on the last lap I managed to do it.
"The car has been feeling great all weekend and I really hope I can finish like in 2019."
Verstappen, who is 109 points clear of Leclerc and on course to win a second title within the next two or three races, said: "The lap was pretty decent, just the first sector we seemed to be a little bit slow – a bit of straight-line speed, a bit of not finding the grip. But the rest of the lap felt pretty strong.
"We chose a higher downforce (level) than some other cars and the race runs felt good so I am looking forward to the race.
"I just need a clean lap one and clear the cars in front quite quickly and then I think we have a good chance.
"I am still expecting to get up to Charles, and then it will be a bit of a battle."
On the prospect of Verstappen winning, Russell said: "You'd have to be pretty stupid to bet against it. He just has to keep his nose clean in the first few laps and he will cruise to victory. We'll be trying to finish ahead of Charles. That will be an exciting race."
Mercedes were in the fight for both pole and victory in the Netherlands a week ago, but qualified more than 1.5secs off the pace at Monza, where the track's high-speed characteristics do not suit their car.
"We don't deserve to be lining up second after today's performance," Russell said. "It was again a frustrating session because we don't seem to be able to get the car in that sweet spot.
"Ultimately, that has been the last season. Lining up P2, we will have a faster race car, probably not fast enough to battle with Max and potentially Charles.
"We still don't have a grasp of why our performance is fluctuating as much as it is but at least we have a fast race car."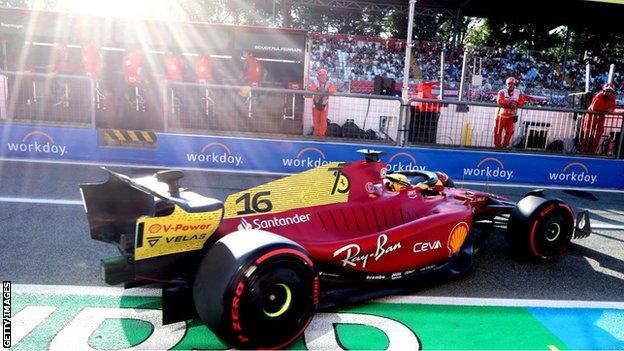 Behind the front row
Norris will be joined on the second row by McLaren team-mate Daniel Ricciardo, with Alpha Tauri's Pierre Gasly and Alpine's Fernando Alonso moving up from ninth and 10th qualifying positions to fifth and sixth.
Alonso has so far this weekend looked to have the best race pace of that group but he struggled in qualifying.
The two-time champion aborted his first lap in the final session and then had his second deleted for exceeding track limits at the second Lesmo on his final lap.
"The Q3 was not very well executed," Alonso said. "I tried two runs but the first run was also not good. So I am sorry for the team that I did not put a lap together. Even this lap I put together was only enough to be P8 so it seems we are lacking a bit of performance in qualifying. Let's see if we can improve (in the race)."
Norris said he feared that McLaren's tendency to struggle with tyre wear in the race would make their afternoon difficult.
"We have made some improvements but the race pace of Fernando in particular looked very strong yesterday," Norris said. "Saturday we're strong but Sunday is the one where we have not always been able to deliver and keep up our performance from Saturday."
Can Hamilton and Sainz move up?
Hamilton, who starts on the back row with Alpha Tauri's Yuki Tsunoda, said he feared that it would be difficult to move up the field.
He fears getting stuck in a so-called 'DRS train', where a group of cars all running closely together all get the benefit of the DRS overtaking aid and therefore none of them can pass.
The number of penalties – almost half the grid has been demoted – has come in for some criticism, but team bosses and drivers pointed out that the system is in place to keep costs down.
Each driver is limited to a total of three power-units for the season, and any usage of any part of the engine over that number triggers a penalty.
Typically, teams take those penalties at high-speed tracks such as Monza and Belgium's Spa-Francorchamps, where it is easier to overtake and therefore the penalty is less damaging.
Mercedes team principal Toto Wolff said that without the penalty system, manufacturers would simply produce special qualifying engines, sending costs through the roof.
Along with Verstappen, Sainz, Perez, Hamilton and Tsunoda, who is unique in having his penalty for driving offences rather than using too many engines or gearboxes, the other drivers to have penalties are Alpine's Esteban Ocon, Alfa Romeo's Valtteri Bottas, and Haas drivers Kevin Magnussen and Mick Schumacher.
These have promoted Dutchman Nick de Vries, on his last-minute debut for Williams into the top 10 in the Williams. He will start eighth.
De Vries was drafted in on Saturday morning after regular driver Alex Albon was diagnosed with appendicitis, and qualified 13th, just ahead of ahead of team-mate Nicholas Latifi in the first session, and enough to progress into second qualifying while the Canadian was knocked out in the first session.