Evolving dynamics of the game, rule changes, rise of power hitters and limitations on field placements have diminished the role of part-time bowlers
November 24, 1993: The Eden Gardens, Kolkata. The 1993 Hero Cup semifinal is on the line with South Africa needing only six runs to win with two wickets in hand and a powerful striker like Brian McMillan is at the crease. 20-year-old Sachin Tendulkar goes to skipper Mohammed Azharuddin and asks for the ball. Six deliveries of liquorice all-sorts later, India score a heart-stopping two-run win.
That despite Manoj Prabhakar, Javagal Srinath and Kapil Dev having two overs left, each, in their quota of ten.
Cut to Colombo, September 25, 2002: South Africa need 21 off the final six balls to beat India and advance to the final of the Champions Trophy. Zaheer Khan has bowled nine brilliant overs for 27 runs. Yet, skipper Sourav Ganguly summons Virender Sehwag, who bowls India to a 10-run win, despite the batters being Jacques Kallis and Lance Klusener.
Can we see similar scenes in the 2023 ICC Men's Cricket World Cup? No. Unless the wicket is a low, slow turner, forget the last over, captains will be loathe to use them even in the middle overs.
Glenn Maxwell's 4-40 vs India at Rajkot last week, seems like an aberration. Of course, he had the cushion of bowling to a team that was under scoreboard pressure of chasing 352 on a pitch that had begun to slow down.
The advent of power hitters, a new ball from each end and the law that states only four fielders can be placed outside the thirty-yard circle from overs 11 to 40, means there is a vast area of the ground that is unprotected and waiting to be targeted. Essentially, it handcuffs the bowler as the fielding captain can protect only the offside or leg-side boundary for 30 overs.
Indian off-spinner R Ashwin, who has made a comeback to the Indian ODI side feels the new rules were brought in to curtail India's dominance.
Speaking on his YouTube channel, Ashwin says, "India were dominating ODI cricket. One of the main reasons for that was we did not have five fielders inside the circle rule and the two new balls rule. I somewhere feel India's dominance with spin was choking world cricket."
"(Ravindra) Jadeja and I were the two spinners at that time. Yuvraj (Singh) and Yusuf (Pathan) used to chip in with some overs. With four fielders inside the circle, it was very difficult to get away in the middle overs. But then they implemented the two new balls rule and the five fielders inside the circle rule. Once they did that, the 240-250-260 games disappeared," he added.
Ashwin himself was entrusted by skipper MS Dhoni to defend 14 runs in the final over of the 2013 Champions Trophy at a cold and blustery Edgbaston, a test he came out passing with flying colours as India won by five runs in a 20-over shoot-out.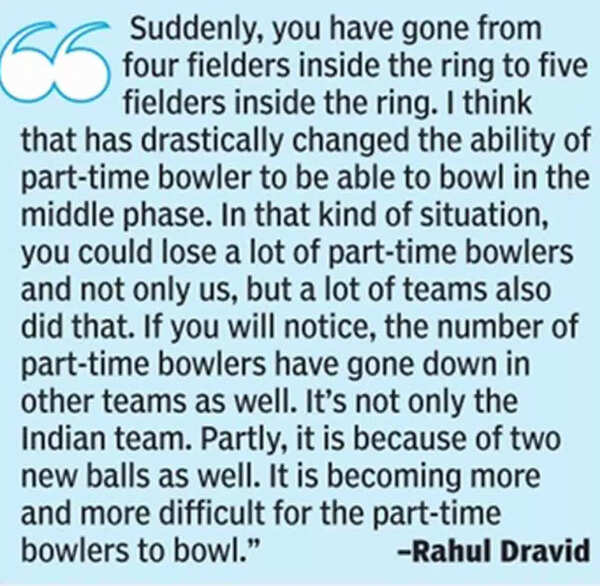 Unless you are a mystery spinner or a wrist spinner, batters will line you up.
What's common between Shahid Afridi, Imran Tahir, Rashid Khan, Yasir Shah, Yuzvendra Chahal, Kuldeep Yadav, Amit Mishra, Ish Sodhi? All the above-mentioned bowlers have had six-wicket hauls or more after 2013, with the new rules in place. Kuldeep in fact has had two hat-tricks. If you compare that to finger spinners, only Akila Dhananjaya and Sunil Narine make that cut.
Strangely though, stats reveal that certain top-order batters, who have bowled finger-spin, have done well. May be knowing exactly what batters are thinking, helps their case.
Among part-timers who have bowled 100 or more overs since 2013, when the rules first came into existence, only Glenn Maxwell, Mohammed Hafeez and Moeen Ali have bowled more than 500 overs and have played 100-plus ODIs. It means captains have trusted them for their dual skills.
ICC World Cup 2023: Men in blue arrive in Thiruvananthapuram ahead of warm-up match with Netherlands
While none of them has a five-for, all three have four-fors and have bowled at a decent economy rate. Maxwell has gone at 5.43 while Hafeez's 4.41 borders on slay. Moeen's 5.29 too is acceptable in the modern game. In the T20 era, where batters don't mind taking a chance once or twice every over and with heavy dew expected in the winter months in certain venues, expecting part-timers to do the job for you consistently, like Yuvraj Singh did in 2011, is asking for too much.
May be that is why you see teams like Australia and Pakistan load up with high quality pace. If people like Mitchell Starc, Pat Cummins, Josh Hazlewood, Shaheen Shah Afridi, Haris Rauf are on song, captains need not worry about part-timers.
Perhaps a lesson there for India, who tend to leave out Mohammed Shami as playing Shami, Jasprit Bumrah and Mohammed Siraj together supposedly lengthens the tail.