Dates:
7 September 2023 – 7 January 2024
BBC coverage:
Listen to live commentary on BBC Radio 5 Sports Extra and the BBC Sport website every Sunday.
The San Francisco 49ers and Philadelphia Eagles remain the only two unbeaten teams left in the NFL after the fourth Sunday of the season.
Damar Hamlin returned to help the Buffalo Bills sink high-flying Miami and the Dallas Cowboys had an emphatic answer to last week's shock loss.
Taylor Swift was again watching as the Kansas City Chiefs beat the New York Jets.
And the Cincinnati Bengals are in big trouble after another bad defeat.
The Denver Broncos and Minnesota Vikings got their first wins of the season to leave the Chicago Bears and Carolina Panthers as the league's only two winless sides.
Hamlin returns as Bills beat Dolphins
Hamlin's first taste of NFL action since his cardiac arrest in January made for an emotional start to a huge game in the AFC East, with his Buffalo Bills side then showing they're still the team to beat by ending Miami's unbeaten start to the season.
Tua Tagovailoa had led the NFL's most electrifying offence through three games, but it was Buffalo's Josh Allen who starred in the 48-20 demolition.
Allen now shares an honour with Aaron Rodgers: they are the only two quarterbacks ever to have 300-plus passing yards, four touchdown throws, a touchdown run and a perfect passer rating – one of many metrics used to judge performance in the NFL – in a single game.
Speaking of Aaron Rodgers, instead of lining up against Patrick Mahomes and the Super Bowl champions in a blockbuster showdown, he was on the sidelines on crutches to watch the Jets, while pop superstar Swift was in the stands again to watch the Chiefs in New York.
Rodgers' stand-in Zach Wilson threatened to upstage them both, and Mahomes, as he led a stirring fightback from 17-0 down to a 20-20 tie in the third quarter – but a fumbled snap from him later cost the Jets in a tough 23-20 loss.
Mahomes threw his 200th touchdown during what was his 84th game to break the record of the great Dan Marino – who reached that landmark in 89 games.
49s and Eagles stay unbeaten
The San Francisco 49ers look like the team to beat after securing a 14th regular season win in a row with a 35-16 success against the Arizona Cardinals – to start 4-0 for just the fifth time in their history.
Only one NFL Most Valuable Player in the past 16 years has not been a quarterback, but 49ers running back Christian McCaffrey has a chance to lift that title this season if he continues at this pace – after scoring four touchdowns against Arizona.
McCaffrey has now scored in 13 straight games to help the Niners become the first team in a decade to score 30-plus points in seven straight regular season games – and look very much like Super Bowl favourites.
An acid test for them comes next week when they face a resurgent Dallas Cowboys and a rampant defence that scored twice and stifled the New England Patriots to win 38-3 on Sunday.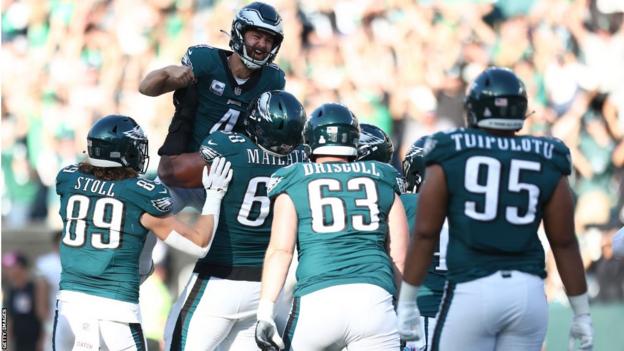 The Eagles are also just about 4-0 after having to come back from 10 points behind to beat the Washington Commanders 34-31 in overtime.
Washington had the chance to win the game when they scored as time expired in regulation, but went for the one-point conversion to force overtime instead of a two-point try for the victory.
They were left to rue that decision when Jake Elliott booted the Eagles to overtime glory.
What's happened to Burrow's Bengals?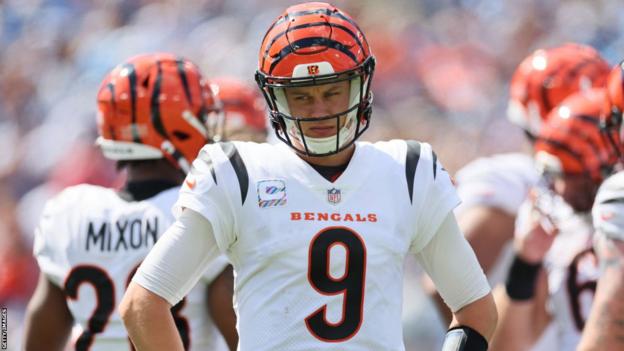 The Cincinnati Bengals handed quarterback Joe Burrow a huge contract at the start of the season, but a combination of a calf injury and some lacklustre displays have resulted in an underwhelming start. They slipped to 1-3 after a limp 27-3 defeat at the Tennessee Titans.
Burrow has thrown just two touchdowns this season despite having one of the best set of receivers in the league, and while they struggled to score against the Titans, the Bengals defence was routed by Derrick Henry to the tune of 122 yards and a touchdown.
Running back Henry also achieved what Burrow failed to do in the game and threw a touchdown pass just to add insult to injury for Cincinnati – who cannot afford many more defeats if they want to make the play-offs.
"Peyton Manning had to show up again," Henry joked after helping the Titans improve to 2-2 and respond from last week's mauling by Cleveland.
Rookies looking the real deal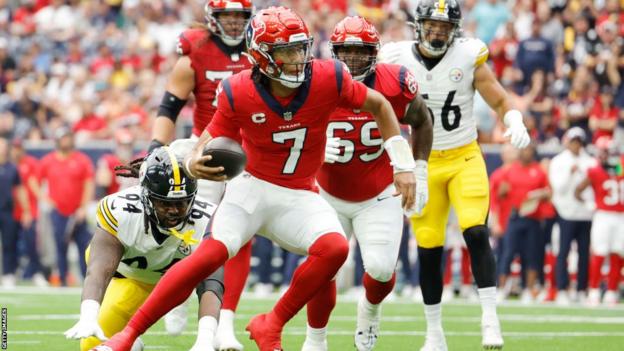 CJ Stroud led the Houston Texans to a resounding 30-6 win over the Pittsburgh Steelers. The rookie quarterback still hasn't thrown an interception and only Cam Newton has thrown for more than his 1,212 yards in his first four NFL games.
Anthony Richardson returned from concussion to throw two touchdowns and become the first quarterback ever to rush for a score in his first three games as he led an astonishing Indianapolis Colts rally from 23-0 down to force overtime with the Los Angeles Rams at 23-23.
It was the Rams' rookie receiver Puka Nacua who won the day though with his overtime touchdown – to cap an incredible start to his career in which he has caught more passes and tallied more yards than any NFL receiver has ever managed in their first four career games.
Lamar Jackson is very much not a rookie but he also starred on Sunday with two passing and two rushing scores during Baltimore's commanding 28-3 success against divisional rivals Cleveland.
And the Ravens are joined on 3-1 by the Tampa Bay Buccaneers after they were also comfortable 26-9 victors over the New Orleans Saints in another divisional contest.
The 2-1 Seattle Seahawks complete week four when they travel to the New York Giants on Monday night football, kicking off at 01:15 BST Tuesday.